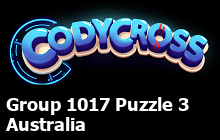 Are you trapped in Group 1017 Puzzle 3 of Australia? Here you have the answers:
A rich jam-like sauce served with Indian food
CHUTNEY
American actor Dawson starred in Rent Daredevil
ROSARIO
August's green birthstone
PERIDOT
Country north of Latvia and west of Russia
ESTONIA
Game of chance where players throw five dice
YAHTZEE
Japanese art of creating fish prints
GYOTAKU
Jewish school for the study of religious texts
YESHIVA
Marvel's master of the mystic arts Doctor
STRANGE
Narrator of The Outsiders
PONYBOY
South African antelope with white facial stripe
BLESBOK
TV detective Monk is often this
WORRIED
This region of Italy includes Florence and Pisa
TUSCANY
Steve vocalist and guitarist born Steve Wold
SEASICK
More levels of CodyCross Australia
Playing Codycross is super fun and also helps you practice vocabulary.
We keep the answers of the new levels updated to help you.
Playing is fun for both children and adults. Word games like Codycross are a great option because besides having fun, they improve some of your mental abilities such as memory.
We look forward to hearing from you whenever you need help with solutions to any level. We are happy to help you.
Enjoy and be sure to share it with all your friends and family!