If you are looking for some answers to the game Codycross here you have them all and also totally updated.
Codycross Answers
Culinary arts
Groups 121 to 140
Fauna and flora
Groups 161 to 180
Ancient egypt
Groups 181 to 200
Amusement park
Groups 201 to 220
Medieval times
Groups 221 to 240
New york new york
Groups 361 to 380
La bella roma
Groups 401 to 420
Department store
Groups 501 to 520
Welcome to japan
Groups 561 to 580
Home sweet home
Groups 621 to 640
Brazilian tour
Groups 761 to 780
Campsite adventures
Groups 821 to 840
Trip to spain
Groups 841 to 860
Fantasy World
Groups 861 to 880
Performing Arts
Groups 881 to 900
Space Exploration
Groups 901 to 920
Futuristic City
Groups 981 to 1000
Treasure Island
Groups 1021 to 1040
Tracking Time
Groups 1041 to 1060
A Sweet Life
Groups 1081 to 1100
House of Horrors
Groups 1101 to 1120
Architectural Styles
Groups 1161 to 1180
CodyCross' Spaceship
Groups 1181 to 1200
Working From Home
Groups 1221 to 1240
All Things Water
Groups 1281 to 1300
Street Fair
Groups 1301 to 1320
World of Sounds
Groups 1341 to 1360
Renaissance
Groups 1381 to 1400
Botanical Garden
Groups 1421 to 1440
Past and Present Tech
Groups 1441 to 1460
Sense of Smell
Groups 1461 to 1480
If you're stuck because you can't find the answers in the game, don't worry, you've come to the right page, we're here to help.
Codycross is an incredible game with millions of downloads and one of the best word games in the market.
Here we will answer some of the most common questions that users usually ask.
What kind of game is Codycross?
Codycross is a fun and exciting word game with countless crossword puzzles separated by worlds and groups. Each world has more than 25 groups of 5 puzzles each.
Some of the game worlds are Planet Earth, Under the Ocean, Inventions, Seasons, Circus, Transportation, etc. …..
Are the solutions or answers of the different levels difficult?
The difficulty increases as you progress through the levels of the game.
What is the interface and history of the Codycross game?
I think it is the most beautiful interface I have seen in a game like this. There is also a story behind it, because the game starts with an alien who arrives on planet Earth and doesn't know anything, so you have to help the alien to know the Earth by solving the puzzles.
It is also a journey through time, discovering our history and the achievements of mankind.
Besides, all the screens in the game are very well made and show good images.
Can I play if I don't have Internet?
Absolutely. The game is also available without internet connection. So you can play anywhere, anytime.
Is the game intended for adults or children?
In the application, you can choose the difficulty level of the game for everyone. There are 3 levels, difficult, easy and childish. Choose yours and enjoy the game.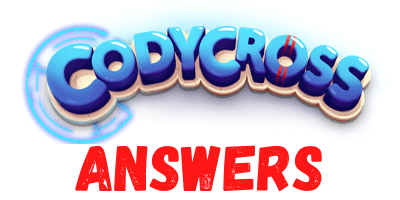 Do word games help our brains?
Of course, not only do you have fun and enjoy the game, but every time you play Codycross, you test your language and memory skills. So, with the game, you learn and it helps you improve your mental skills.
Here we give you online all the answers, solutions and cheats of the funniest word game and crossword app we know.
If a friend has not yet downloaded the game, we leave you the links to download it both in Android and for Ios. Download completely free.
We recommend that you keep the game always updated to enjoy the latest levels that are added and have all the information up to date.