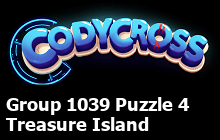 Are you trapped in Group 1039 Puzzle 4 of Treasure Island? Here you have the answers:
50-60s dance move of Chubby Checker
THE TWIST
Adjective used to describe Russia's Tsar Ivan IV
TERRIBLE
Another name for architecture style of skyscrapers
HIGH RISE
Device used to type letters and symbols
KEYBOARD
Enter land or property without owner's permission
TRESPASS
Fellow seafarer on a voyage
SHIPMATE
First name of composer Mozart
WOLFGANG
Horse races are measured in these
FURLONGS
Hungarian sheepdog known for its mop-like coat
KOMONDOR
Pain caused by a trapped nerve in the lower back
SCIATICA
Partner of a main course eaten adjacent
SIDE DISH
Poker hand of five consecutively numbered cards
STRAIGHT
Sliding down a slope using an ice ax for stopping
GLISSADE
The T in James T Kirk played by William Shatner
TIBERIUS
The hippogriff who attacked Draco Malfoy
BUCKBEAK
The meeting of cardinals that decides the new pope
CONCLAVE
Twice monthly watery phenomenon due to the Moon
NEAP TIDE
You might be in this liquid when you're in trouble
HOT WATER
More levels of CodyCross Treasure Island
Playing Codycross is super fun and also helps you practice vocabulary.
We keep the answers of the new levels updated to help you.
Playing is fun for both children and adults. Word games like Codycross are a great option because besides having fun, they improve some of your mental abilities such as memory.
We look forward to hearing from you whenever you need help with solutions to any level. We are happy to help you.
Enjoy and be sure to share it with all your friends and family!