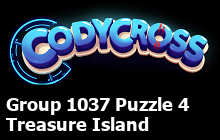 Are you trapped in Group 1037 Puzzle 4 of Treasure Island? Here you have the answers:
A person who plays sports
ATHLETE
Bruce Lee's actor son star of The Crow
BRANDON
Court jester of King Arthur
DAGONET
Forest cervidae with reddish coats and white rumps
ROE DEER
Gelatinous things used in kombucha production
SCOBIES
Gets smaller like Alice before she ate the cake
SHRINKS
Kumail Nanjiani's movie about his ill wife The __
BIG SICK
Off on a completely different line of thought
TANGENT
Replica of a person built in wintry weather
SNOWMAN
Sweet substance put between sponge layers
FILLING
The Coca-Cola Company is based in this city
ATLANTA
The storage tank of a flush toilet
CISTERN
More levels of CodyCross Treasure Island
Playing Codycross is super fun and also helps you practice vocabulary.
We keep the answers of the new levels updated to help you.
Playing is fun for both children and adults. Word games like Codycross are a great option because besides having fun, they improve some of your mental abilities such as memory.
We look forward to hearing from you whenever you need help with solutions to any level. We are happy to help you.
Enjoy and be sure to share it with all your friends and family!