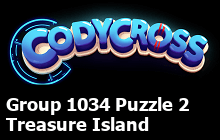 Are you trapped in Group 1034 Puzzle 2 of Treasure Island? Here you have the answers:
Cloudy part of an eye's lens
CATARACT
Conflict between two groups in the same country
CIVIL WAR
First name of British archaeologist Kenyon
KATHLEEN
Funny deck game with RPG elements
MUNCHKIN
Hopping mammal from Australia
KANGAROO
Idiotic paper size of 13½ x 17 inches?
FOOLSCAP
Like an area just outside of the main city
SUBURBAN
Milk cheese and butter made from plants
NON DAIRY
Monstrous old crone in Russian folklore
BABA YAGA
Peter __ wrote Jaws novel in 1974
BENCHLEY
Pitch Perfect and Love Life actress Anna
KENDRICK
Surname of an actor in Titanic and The Revenant
DICAPRIO
The __ ethical skincare brand from Anita Roddick
BODY SHOP
The youngest of King Lear's three daughters
CORDELIA
This Ball was a 2013 smash for Miley Cyrus
WRECKING
Warm garment with buttons down the front
CARDIGAN
__ Sam cartoon cowboy with big hat and mustache
YOSEMITE
More levels of CodyCross Treasure Island
Playing Codycross is super fun and also helps you practice vocabulary.
We keep the answers of the new levels updated to help you.
Playing is fun for both children and adults. Word games like Codycross are a great option because besides having fun, they improve some of your mental abilities such as memory.
We look forward to hearing from you whenever you need help with solutions to any level. We are happy to help you.
Enjoy and be sure to share it with all your friends and family!