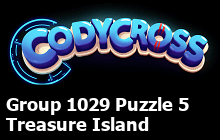 Are you trapped in Group 1029 Puzzle 5 of Treasure Island? Here you have the answers:
8 quadrillion bits
PETABYTE
A 1969 Ali MacGraw movie said Goodbye to him
COLUMBUS
Anne Hollywood actress or Shakespeare's wife
HATHAWAY
Bob star of Better Call Saul
ODENKIRK
Country that spends a currency called the baht
THAILAND
County associated with Carroll's grinning cat
CHESHIRE
Croatian lake national park on World Heritage list
PLITVICE
English queen for nine days in 1553
JANE GREY
First name of British fashion designer Westwood
VIVIENNE
Insect that sucks blood and leaves an itchy bite
MOSQUITO
Singer of The Road to Hell and Auberge
CHRIS REA
The 24-hour period named after the Norse god Thor
THURSDAY
Valentine's Day is celebrated in this month
FEBRUARY
Waterfall in Haiti that is a shrine for 2 religions
SAUTDEAU
What tall is to short and fat is to thin
OPPOSITE
More levels of CodyCross Treasure Island
Playing Codycross is super fun and also helps you practice vocabulary.
We keep the answers of the new levels updated to help you.
Playing is fun for both children and adults. Word games like Codycross are a great option because besides having fun, they improve some of your mental abilities such as memory.
We look forward to hearing from you whenever you need help with solutions to any level. We are happy to help you.
Enjoy and be sure to share it with all your friends and family!