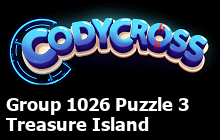 Are you trapped in Group 1026 Puzzle 3 of Treasure Island? Here you have the answers:
A figure represented as a proportion of 100
PER CENT
A nauseous feeling when traveling on water
SEASICK
Actresses Romijn Ferguson or De Mornay
REBECCA
Fish that can be red might bite like a croc
SNAPPER
Hamilton's Eliza is willing to be the wife of this
POOR MAN
Imbue or infuse with
STEEPED
Johnny tells him to Stay gold in The Outsiders
PONYBOY
Ludwig van Beethoven's only opera debuted in 1805
FIDELIO
Not that one a different one
ANOTHER
The mother of King Arthur according to legend
IGRAINE
War captain protagonist in Mad Max: Fury Road
FURIOSA
What happens when a marriage has to end
DIVORCE
__ Islands Italian group in the Tyrrhenian Sea
AEOLIAN
More levels of CodyCross Treasure Island
Playing Codycross is super fun and also helps you practice vocabulary.
We keep the answers of the new levels updated to help you.
Playing is fun for both children and adults. Word games like Codycross are a great option because besides having fun, they improve some of your mental abilities such as memory.
We look forward to hearing from you whenever you need help with solutions to any level. We are happy to help you.
Enjoy and be sure to share it with all your friends and family!