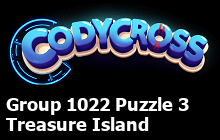 Are you trapped in Group 1022 Puzzle 3 of Treasure Island? Here you have the answers:
Adds information to written words
SUBJOINS
Body of water that separates Britain and Ireland
IRISH SEA
Carey star of Drive An Education and Suffragette
MULLIGAN
Country that holds an annual Boon Luang festival
THAILAND
Green veggies with thick pod walls AKA mangetouts
SNAP PEAS
Prison in which the Man in the Iron Mask was held
BASTILLE
Red and white sphere in Nintendo video game
POKEBALL
Someone who is unknown to a person or group
STRANGER
Thandie Newton reverted to this first name in 2021
THANDIWE
Triangular flags exchanged by sports teams
PENNANTS
Ugly creature that turns into a swan
DUCKLING
More levels of CodyCross Treasure Island
Playing Codycross is super fun and also helps you practice vocabulary.
We keep the answers of the new levels updated to help you.
Playing is fun for both children and adults. Word games like Codycross are a great option because besides having fun, they improve some of your mental abilities such as memory.
We look forward to hearing from you whenever you need help with solutions to any level. We are happy to help you.
Enjoy and be sure to share it with all your friends and family!