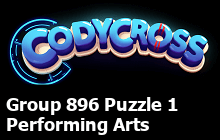 Are you trapped in Group 896 Puzzle 1 of Performing Arts? Here you have the answers:
Meeting the requirements for participation
ELIGIBLE
Multi-covered 20s classic song by Hoagy Carmichael
STARDUST
Star cluster also known as the Seven Sisters
PLEIADES
The female Defence Against the Dark Arts teacher
UMBRIDGE
Cereal advertised as the breakfast of champions
WHEATIES
A geographical area in Canada
PROVINCE
Man who appears physically and emotionally strong
TOUGHGUY
Shigeru Super Mario creator and Nintendo guru
MIYAMOTO
Pinscher that often serves as police or military
DOBERMAN
Pedestrianized street beside a road
SIDEWALK
Media that debated blue/black or white/gold dress
BUZZFEED
Italian ballerina Marie first to dance en pointe?
TAGLIONI
Indian city former HQ of the East India Company
CALCUTTA
More levels of CodyCross Performing Arts
Playing Codycross is super fun and also helps you practice vocabulary.
We keep the answers of the new levels updated to help you.
Playing is fun for both children and adults. Word games like Codycross are a great option because besides having fun, they improve some of your mental abilities such as memory.
We look forward to hearing from you whenever you need help with solutions to any level. We are happy to help you.
Enjoy and be sure to share it with all your friends and family!