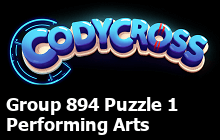 Are you trapped in Group 894 Puzzle 1 of Performing Arts? Here you have the answers:
She explained it all on Nickelodeon in the 1990s
CLARISSA
Hard candy attached to a stick
LOLLIPOP
This outdoor surface is hard to walk on in summer
PAVEMENT
Made better or clearer
ENHANCED
Full last name of saxophonist Kenny G
GORELICK
Thing used to mark a spot in a novel
BOOKMARK
In the tale a sword was suspended above him
DAMOCLES
The unit of measurement for X and gamma rays
ROENTGEN
This character appears in four Shakespeare plays
FALSTAFF
Broadway home of The Lion King since 2006
MINSKOFF
Arnold flick where Jamie Lee Curtis plays his wife
TRUELIES
This species of baleen whale is known for singing
HUMPBACK
Old wives' tale basin cure for sinus congestion
FOOTBATH
Wizards of __ publishes Dungeons & Dragons Magic
THECOAST
More levels of CodyCross Performing Arts
Playing Codycross is super fun and also helps you practice vocabulary.
We keep the answers of the new levels updated to help you.
Playing is fun for both children and adults. Word games like Codycross are a great option because besides having fun, they improve some of your mental abilities such as memory.
We look forward to hearing from you whenever you need help with solutions to any level. We are happy to help you.
Enjoy and be sure to share it with all your friends and family!