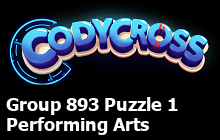 Are you trapped in Group 893 Puzzle 1 of Performing Arts? Here you have the answers:
Sanskrit name for child's pose in yoga
BALASANA
The ancient Greek god of the west wind
ZEPHYRUS
Slang for continued hard work
GRINDING
Sockeye salmon that are landlocked
KOKANEES
A city in California; a type of cheese
MONTEREY
Unrest in Argentina with military death squads
DIRTYWAR
Fashion brand based in Metzingen Germany
HUGOBOSS
Throws into confusion causes a halt
DISRUPTS
TV show about people who hate to throw things out
HOARDERS
Great lake's name means long tail
LAKEERIE
Leader of a religious institution like a school
CHAPLAIN
Type of oil that gets burned when you stay up late
MIDNIGHT
Ceremonial canine model used in Chinese festivals
STRAWDOG
Child's wet weapon
WATERGUN
Chubby Checker cover that made a dance popular
THETWIST
More levels of CodyCross Performing Arts
Playing Codycross is super fun and also helps you practice vocabulary.
We keep the answers of the new levels updated to help you.
Playing is fun for both children and adults. Word games like Codycross are a great option because besides having fun, they improve some of your mental abilities such as memory.
We look forward to hearing from you whenever you need help with solutions to any level. We are happy to help you.
Enjoy and be sure to share it with all your friends and family!