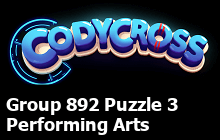 Are you trapped in Group 892 Puzzle 3 of Performing Arts? Here you have the answers:
Robin Hood's religious Merry Man
FRIARTUCK
Go to a party uninvited
GATECRASH
Israel ruler who began as shepherd with slingshot
KINGDAVID
Seaport city in Maryland where Babe Ruth was born
BALTIMORE
Heroic girls daughters of Professor Utonium
POWERPUFF
A speech in a play given by a single person
MONOLOGUE
The study of the nose
RHINOLOGY
Branches of neurons
DENDRITES
Special layer on a cast-iron frying pan
SEASONING
What the E in UNICEF stands for
EMERGENCY
Largest Ohio tributary aka Cherokee River
TENNESSEE
More levels of CodyCross Performing Arts
Playing Codycross is super fun and also helps you practice vocabulary.
We keep the answers of the new levels updated to help you.
Playing is fun for both children and adults. Word games like Codycross are a great option because besides having fun, they improve some of your mental abilities such as memory.
We look forward to hearing from you whenever you need help with solutions to any level. We are happy to help you.
Enjoy and be sure to share it with all your friends and family!