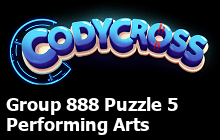 Are you trapped in Group 888 Puzzle 5 of Performing Arts? Here you have the answers:
Gummy food-thickening additive
GELATINE
Where future CEOs supposedly start out
MAILROOM
Aerosmith lead singer's daughter; played Arwen
LIVTYLER
Homes for dramas movies musicals comedies
THEATERS
Spooky three-sided area near Bermuda
TRIANGLE
Roman emperor who succeeded Caligula in 41AD
CLAUDIUS
Revival of 20s New Orleans music in the 50s
TRADJAZZ
Half-bend at the knees in ballet
DEMIPLIE
What you watch on the track at Daytona Speedway
RACECARS
Dean Koontz book of genetically engineered animals
WATCHERS
It's the month of Kwanzaa Hanukkah and Christmas
DECEMBER
More levels of CodyCross Performing Arts
Playing Codycross is super fun and also helps you practice vocabulary.
We keep the answers of the new levels updated to help you.
Playing is fun for both children and adults. Word games like Codycross are a great option because besides having fun, they improve some of your mental abilities such as memory.
We look forward to hearing from you whenever you need help with solutions to any level. We are happy to help you.
Enjoy and be sure to share it with all your friends and family!