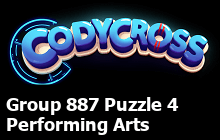 Are you trapped in Group 887 Puzzle 4 of Performing Arts? Here you have the answers:
New Zealand's largest city
AUCKLAND
Cable channel known for Homeland Dexter
SHOWTIME
He's the voice of Buzz Lightyear
TIMALLEN
1967 seafood-named musical Elvis starred in
CLAMBAKE
An educated guess about future events
FORECAST
The location of the bronze Great Buddha statue
KAMAKURA
Popular floors often desired on home design shows
HARDWOOD
Milder red chili pepper
PIMIENTO
The Jonathan Swift character who went to Lilliput
GULLIVER
Largest vein in the human body
VENACAVA
Illness-causing microorganism; the plague was one
BACTERIA
To broadcast or televise
TRANSMIT
Small lobster-like creatures aka crayfish
CRAWDADS
More levels of CodyCross Performing Arts
Playing Codycross is super fun and also helps you practice vocabulary.
We keep the answers of the new levels updated to help you.
Playing is fun for both children and adults. Word games like Codycross are a great option because besides having fun, they improve some of your mental abilities such as memory.
We look forward to hearing from you whenever you need help with solutions to any level. We are happy to help you.
Enjoy and be sure to share it with all your friends and family!