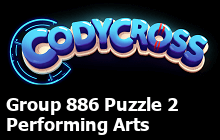 Are you trapped in Group 886 Puzzle 2 of Performing Arts? Here you have the answers:
This male pattern doesn't include hair
BALDNESS
Examples include helium oxygen and sodium
ELEMENTS
List of desired gifts for a wedding or baby shower
REGISTRY
Insects considered good luck in Asia
CRICKETS
Captivating island in San Francisco Bay
ALCATRAZ
The storyteller of a book or film
NARRATOR
Bird-hunting spaniel with brown and white fur
BRITTANY
Dance that won't help gums but seems like it might
FLOSSING
Masked heavy metal band from the US
SLIPKNOT
Gotham superhero also known as Kate Kane
BATWOMAN
Smart Jellystone picnic lover
YOGIBEAR
Portuguese dried and cured ham
PRESUNTO
These blankets can help with anxiety
WEIGHTED
More levels of CodyCross Performing Arts
Playing Codycross is super fun and also helps you practice vocabulary.
We keep the answers of the new levels updated to help you.
Playing is fun for both children and adults. Word games like Codycross are a great option because besides having fun, they improve some of your mental abilities such as memory.
We look forward to hearing from you whenever you need help with solutions to any level. We are happy to help you.
Enjoy and be sure to share it with all your friends and family!