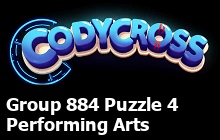 Are you trapped in Group 884 Puzzle 4 of Performing Arts? Here you have the answers:
Campaigners protestors
ACTIVISTS
Christian music from the Afro-American tradition
SPIRITUAL
Item needed for game played in A. A. Milne stories
POOHSTICK
Actor who plays Doctor McCoy in Star Trek remakes
KARLURBAN
Biblical monster depicted as a fish and/or reptile
LEVIATHAN
Bill and Hillary Clinton's granddaughter
CHARLOTTE
Small foamy waves during low tide
WHITECAPS
Facial hair named after Civil War general
SIDEBURNS
Money paid for government services
INCOMETAX
Michael Frayn play about a play
NOISESOFF
More levels of CodyCross Performing Arts
Playing Codycross is super fun and also helps you practice vocabulary.
We keep the answers of the new levels updated to help you.
Playing is fun for both children and adults. Word games like Codycross are a great option because besides having fun, they improve some of your mental abilities such as memory.
We look forward to hearing from you whenever you need help with solutions to any level. We are happy to help you.
Enjoy and be sure to share it with all your friends and family!