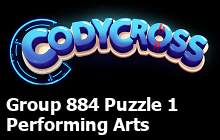 Are you trapped in Group 884 Puzzle 1 of Performing Arts? Here you have the answers:
Top prize from a slot machine or the lottery
JACKPOT
Aquatic flightless bird often found in the cold
PENGUIN
Woody Harrelson bowling movie
KINGPIN
After-death surgical investigation
AUTOPSY
Sandpits in golf or war shelters
BUNKERS
Without luxury inspired by ancient Greek city
SPARTAN
Flat leather shoes sometimes they hold a penny
LOAFERS
A YouTuber's subscribers are also called this
VIEWERS
Old practice of finding water with a Y-shaped rod
DOWSING
Country singer Williams she sang Can't Let Go
LUCINDA
More levels of CodyCross Performing Arts
Playing Codycross is super fun and also helps you practice vocabulary.
We keep the answers of the new levels updated to help you.
Playing is fun for both children and adults. Word games like Codycross are a great option because besides having fun, they improve some of your mental abilities such as memory.
We look forward to hearing from you whenever you need help with solutions to any level. We are happy to help you.
Enjoy and be sure to share it with all your friends and family!