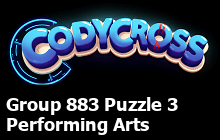 Are you trapped in Group 883 Puzzle 3 of Performing Arts? Here you have the answers:
A US state known for its cheese
WISCONSIN
Type of bond issued by a local government
MUNICIPAL
Bouncy Australian marsupials
KANGAROOS
Longer way to say tried had a go
ATTEMPTED
Mother of Hagrid
FRIDWULFA
Arguing about trivial matters
QUIBBLING
Jewish house of worship
SYNAGOGUE
Extremely narrowly sliced e.g. ham or turkey
WAFERTHIN
City housing the World Video Game Hall of Fame
ROCHESTER
US state or recently acquired clothing item
NEWJERSEY
More levels of CodyCross Performing Arts
Playing Codycross is super fun and also helps you practice vocabulary.
We keep the answers of the new levels updated to help you.
Playing is fun for both children and adults. Word games like Codycross are a great option because besides having fun, they improve some of your mental abilities such as memory.
We look forward to hearing from you whenever you need help with solutions to any level. We are happy to help you.
Enjoy and be sure to share it with all your friends and family!