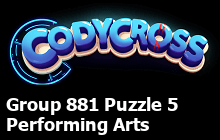 Are you trapped in Group 881 Puzzle 5 of Performing Arts? Here you have the answers:
Wrench that has attachments that help turn things
SOCKET
The Greek god of beauty and desire
ADONIS
Areas of land drained by rivers
BASINS
Video game with falling blocks
TETRIS
Small residues of dried bread
CRUMBS
Typical playful move of a spring lamb
GAMBOL
A tool used to turn nuts and bolt heads
WRENCH
Day of the week for Thanksgiving in Canada
MONDAY
Individual portions of a garden fence
PANELS
Teen drama character who apparently owned a creek
DAWSON
The second most abundant element in the universe
HELIUM
Type of man Colin Firth plays in a Tom Ford movie
SINGLE
A bean or a very fast person
RUNNER
More levels of CodyCross Performing Arts
Playing Codycross is super fun and also helps you practice vocabulary.
We keep the answers of the new levels updated to help you.
Playing is fun for both children and adults. Word games like Codycross are a great option because besides having fun, they improve some of your mental abilities such as memory.
We look forward to hearing from you whenever you need help with solutions to any level. We are happy to help you.
Enjoy and be sure to share it with all your friends and family!