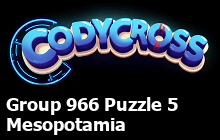 Are you trapped in Group 966 Puzzle 5 of Mesopotamia? Here you have the answers:
A priest's assistant at a religious service
ACOLYTE
Anthropomorphic pitcher man that destroys walls
KOOLAID
Button on a fruit machine like nudge
SHUFFLE
Captain who is best friends with Tintin
HADDOCK
Expensive spice made from purple flowers
SAFFRON
Harry Potter's aunt
PETUNIA
Japanese massage that means finger pressure
SHIATSU
Military and religious order of knights
TEMPLAR
Quads abs bis and tris
MUSCLES
Science thought to turn base metal into gold
ALCHEMY
Surname of Philip architect of 1940s Glass House
JOHNSON
The males in this species partake in necking
GIRAFFE
More levels of CodyCross Mesopotamia
Playing Codycross is super fun and also helps you practice vocabulary.
We keep the answers of the new levels updated to help you.
Playing is fun for both children and adults. Word games like Codycross are a great option because besides having fun, they improve some of your mental abilities such as memory.
We look forward to hearing from you whenever you need help with solutions to any level. We are happy to help you.
Enjoy and be sure to share it with all your friends and family!