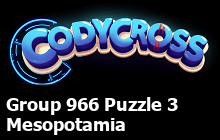 Are you trapped in Group 966 Puzzle 3 of Mesopotamia? Here you have the answers:
A medium-sized wildcat with chain-rosette spots
OCELOT
Country where you can visit the Halls of Montezuma
MEXICO
Description of anything anyone from former USSR
SOVIET
Design on a company's fleet of vehicles
LIVERY
Feel regret and seek forgiveness
REPENT
French form of the name Peter
PIERRE
Jim Henson's Muppet frog
KERMIT
Man who was Robinson Crusoe's loyal servant
FRIDAY
Senior male servant in a household
BUTLER
Someone who belittles a person
ABASER
Three-wheeled rickshaw taxi
TUK TUK
White crescent at the base of the fingernail
LUNULA
Wide ribbons worn from shoulder to waist
SASHES
More levels of CodyCross Mesopotamia
Playing Codycross is super fun and also helps you practice vocabulary.
We keep the answers of the new levels updated to help you.
Playing is fun for both children and adults. Word games like Codycross are a great option because besides having fun, they improve some of your mental abilities such as memory.
We look forward to hearing from you whenever you need help with solutions to any level. We are happy to help you.
Enjoy and be sure to share it with all your friends and family!