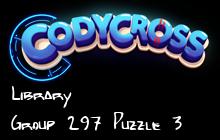 Are you trapped in Group 297 Puzzle 3 of Library? Here you have the answers:
A type of dessert baked in a ring shaped pan
BUNDT CAKE
An add-on to an outfit e.g. a handbag or earrings
ACCESSORY
Android OS version like sugary drops
JELLY BEAN
Android OS version like sugary flavored candies
JELLY BEAN
Another word for "wrestling"
GRAPPLING
Composer and movie about a St. Bernard
BEETHOVEN
Exhibiting a strong determination
AMBITIOUS
Indian tech city, capital of Telangana state
HYDERABAD
Keeps your hair dry in the bath or under sprinkler
SHOWER CAP
Keeps your hair dry in the shower, bath
SHOWER CAP
Laminated pastry for pies
ROUGH PUFF
Laminated pastry for sweet and savory pies
ROUGH PUFF
Person who is obsessively self-centered
EGOMANIAC
Person who is self-obsessed to an unhealthy degree
EGOMANIAC
Pronounce clearly
ENUNCIATE
Sad Portuguese folk songs
FADO MUSIC
Science fiction genre: Victorian and Industrial
STEAMPUNK
System of writing of ancient Mesopotamia
CUNEIFORM
The beans of this plant contain ricin
CASTOR OIL
The scientific study of sleep
SOMNOLOGY
Throw these during winter play fights
SNOWBALLS
US Revolutionary War started at this battle site
LEXINGTON
US political party of Obama, Clinton and JFK
DEMOCRATS
What New York was called originally: New __
AMSTERDAM
When a building is cleared out due to an emergency
EVACUATED
Word popularized by Bill & Ted, meaning sexy
BODACIOUS
World's fastest dog breed; also a bus company
GREYHOUND
More levels of CodyCross Library
Remember to add this site to your bookmarks 🌟 so you can come back when you need help with a level!
Codycross is one of the most played word games in history, enjoy the new levels that the awesome developer team is constantly making for you to have fun, and come back here if you need a little bit of help with one of them.
Please feel free to contact us for suggestions and comments.