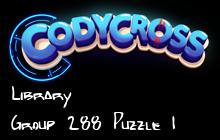 Are you trapped in Group 288 Puzzle 1 of Library? Here you have the answers:
1971 Bond film Diamonds are __
FOREVER
A song's chorus or to abstain from doing something
REFRAIN
Adult male chicken
ROOSTER
Balkan nation invaded by Italy in WWII
ALBANIA
Craft tool for firing adhesive into place
GLUE GUN
Dramatic and very ornate art style in 17th century
BAROQUE
Exalted state of joy
ELATION
Fancy strips of cloth laid along a festive table
RUNNERS
French jewelry maker and luxury watch brand
CARTIER
Gap in the ring system of Saturn and also a probe
CASSINI
Least rapid, not the quickest
SLOWEST
Magazine that notes top 500 companies
FORTUNE
Medical term for the study of disorders of the ear
OTOLOGY
Reddish toxic liquid element, used in dyes
BROMINE
Section of horse's leg between hoof and fetlock
PASTERN
Ship-swallowing triangle in the Atlantic Ocean
BERMUDA
Slang for helicopter
CHOPPER
The table where you pay for your goods in a shop
COUNTER
To put something on food as a decoration
GARNISH
To release from obligation, to set free
ABSOLVE
More levels of CodyCross Library
Remember to add this site to your bookmarks 🌟 so you can come back when you need help with a level!
Codycross is one of the most played word games in history, enjoy the new levels that the awesome developer team is constantly making for you to have fun, and come back here if you need a little bit of help with one of them.
Please feel free to contact us for suggestions and comments.