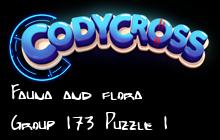 Are you trapped in Group 173 Puzzle 1 of Fauna and flora? Here you have the answers:
A college __ is empty during the summer
CAMPUS
Boldly display or parade yourself
FLAUNT
Enclosed freight car on a train
BOXCAR
Futuristic movie populated by blue beings
AVATAR
Hungry Hungry __, marble-eating mammals
HIPPOS
Kent State __ Flashes play at Dix Stadium
GOLDEN
Largest country in the world
RUSSIA
Luke Skywalker's mentor's surname
KENOBI
Mayim __, actress with a PhD in neuroscience
BIALIK
Mr __; father of Lizzy in Pride and Prejudice
BENNET
Muppet band, The Electric __
MAYHEM
Pearl __, event that forced the US to enter the WWII
HARBOR
Plant fertilizing powder loved by bees
POLLEN
Plant-germinating powder loved by bees
POLLEN
Silky sharks have very __ skin
SMOOTH
Someone who peddles something
SELLER
The Little __, 1948 Tom, Jerry Oscar winner
ORPHAN
The first day of the fifth month
MAY DAY
Treaty giving English kings claim to French throne
TROYES
Wild cats with tufted ears
LYNXES
Wound, hurt, damage to your body
INJURY
__ Can Wait, Warren Beatty 1978 comedy
HEAVEN
__ Christi "Body of Christ", Christian festival
CORPUS
__ Stern, radio show host
HOWARD
__ guard: low seat for overflow audience in circus
CATTLE
More levels of CodyCross Fauna and flora
Remember to add this site to your bookmarks 🌟 so you can come back when you need help with a level!
Codycross is one of the most played word games in history, enjoy the new levels that the awesome developer team is constantly making for you to have fun, and come back here if you need a little bit of help with one of them.
Please feel free to contact us for suggestions and comments.