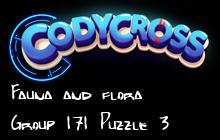 Are you trapped in Group 171 Puzzle 3 of Fauna and flora? Here you have the answers:
"Blue" mutant ninja turtle who uses swords
LEONARDO
A recruit, someone who has joined the military
ENLISTEE
A room in a stable for storing saddles, etc
TACK ROOM
Alleged biological warfare agent in early America
SMALLPOX
Author of the novel One Flew Over The Cuckoo's Nest
KEN KESEY
Battleship is a __ game for two people
GUESSING
Beta, test version of a nearly __ product
FINISHED
Choplifter was on Atari, Sega, and __
NINTENDO
Cocktail, looks like South American nation flag
COLOMBIA
Figure of speech; symbolic, not literal
METAPHOR
Gigantic, huge, a __ effort
COLOSSAL
Known for PayPal, Tesla and SpaceX
ELON MUSK
Lebanese designer, dressed Oscar-winner Halle Berry
ELIE SAAB
Light, warmth or direct rays of the yellow dwarf
SUNSHINE
Lunar foot dance originated by Michael Jackson
MOONWALK
Male of this marine species carries the unborn
SEAHORSE
Most prevalent gas in the Earth's atmosphere
NITROGEN
Mountainous region between Black and Caspian seas
CAUCASUS
Saintlike Islamic teacher of West Africa
MARABOUT
Saying hello to a person when you meet
GREETING
Science of pure being, the nature of things
ONTOLOGY
TV series about the routine of a lifeguards team
BAYWATCH
The capital of United Arab Emirates
ABU DHABI
To strike with a sudden feeling, usually good
SURPRISE
Usually in reference to getting a smaller house
DOWNSIZE
__ Bogart, American actor
HUMPHREY
__ Jets play hockey at the MTS Centre
WINNIPEG
__ feather star has 31 to 120 feathery arms
BENNETTS
More levels of CodyCross Fauna and flora
Remember to add this site to your bookmarks 🌟 so you can come back when you need help with a level!
Codycross is one of the most played word games in history, enjoy the new levels that the awesome developer team is constantly making for you to have fun, and come back here if you need a little bit of help with one of them.
Please feel free to contact us for suggestions and comments.