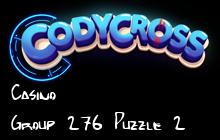 Are you trapped in Group 276 Puzzle 2 of Casino? Here you have the answers:
A turophile is a __ lover (think dairy)
CHEESE
Amazon river aka Caqueta River
JAPURA
Bad luck always comes in __
THREES
Bounced on one foot
HOPPED
Bugs Bunny's original name: Happy __
RABBIT
Flattened metal bolts used in shipbuilding
RIVETS
Fluffy, dry creature in Gremlins
MOGWAI
Gary __; Sirius Black in the Harry Potter films
OLDMAN
Greek mythological sun god who rode a gold chariot
HELIOS
Industrial process for producing sodium carbonate
SOLVAY
Kid's drawing tool made of pigmented wax
CRAYON
LeVar __, young Kunta Kinte, Geordi La Forge
BURTON
Leafy shelters in a garden
BOWERS
Mega toy brand owns Playskool, Parker Brothers
HASBRO
Merchant vessel that transports liquids, gases
TANKER
Monotonously talks on and on
DRONES
Oneirophobia: the fear of __
DREAMS
Past tense of teach
TAUGHT
People carry lucky __ such as rabbits paws
CHARMS
Pie __ medieval courts that sat in market squares
POUDRE
Pieces or large portions
CHUNKS
Pungent small bulb, good for roasting
GARLIC
Small green leaves that protect a flower's head
SEPALS
Toxic disease from infection, also septicemia
SEPSIS
__ bells, ringing device on a harness or horse
SLEIGH
More levels of CodyCross Casino
Remember to add this site to your bookmarks 🌟 so you can come back when you need help with a level!
Codycross is one of the most played word games in history, enjoy the new levels that the awesome developer team is constantly making for you to have fun, and come back here if you need a little bit of help with one of them.
Please feel free to contact us for suggestions and comments.