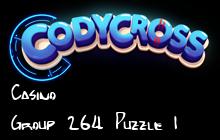 Are you trapped in Group 264 Puzzle 1 of Casino? Here you have the answers:
A usually circular line encompassing an area
CIRCUIT
Amy __, aviatrix flew from Britain to Australia
JOHNSON
Another name for kettledrums
TIMPANI
Brown/black/gray jasper named for a Spanish artist
PICASSO
Carve this large orange vegetable at Halloween
PUMPKIN
Cash __, an ATM to dispense the notes for shopping
MACHINE
Certainly not strict
LENIENT
Company distilling Cordon Bleu
MARTELL
Corby __ Press, an iconic product from Britain
TROUSER
Fatty acid used in soaps
STEARIC
Greek goddess of corn and fruitfulness
DEMETER
Hormone that regulates glucose in the blood
INSULIN
Intensely deep red
CRIMSON
Italian city buried under ash in AD79
POMPEII
Large sledges traditionally pulled by reindeer
SLEIGHS
Machado __, Brazilian writer of realist novels
DE ASSIS
Open spaces in towns for buying and selling
MARKETS
Pain in the hearing organ
EARACHE
Pakistani city known as the Paris of Asia
KARACHI
Passed date of validity
EXPIRED
Physical therapist; anagram of Erasmus
MASSEUR
Player going first in __ 4 can win 100% of the times
CONNECT
Power over others or a machine
CONTROL
Retail __, shopping to make you feel better!
THERAPY
Someone who investigates suspicious deaths
CORONER
South China Sea islands claimed by Vietnam, China
PARACEL
Stadio Artemio __, Fiorentina football home
FRANCHI
Tiny glass balls for rolling or collecting
MARBLES
Turned into a liquid smoothie by a machine
BLENDED
Underground stem that produces roots and shoots
RHIZOME
What one cannot do if he/she can't obey
COMMAND
Yarn measure equivalent to 18 hanks or 126 skeins
SPINDLE
__ Heaven, state of euphoria; 90s show
SEVENTH
__ Sorter, machine to separate unattractive foods
BLEMISH
__ Tree, a Boston elm, focus of Revolutionary zeal
LIBERTY
__-daro, rediscovered Indus Valley civilization
MOHENJO
More levels of CodyCross Casino
Remember to add this site to your bookmarks 🌟 so you can come back when you need help with a level!
Codycross is one of the most played word games in history, enjoy the new levels that the awesome developer team is constantly making for you to have fun, and come back here if you need a little bit of help with one of them.
Please feel free to contact us for suggestions and comments.