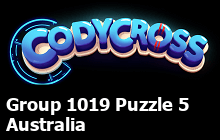 Are you trapped in Group 1019 Puzzle 5 of Australia? Here you have the answers:
Appetite that requires lots of food
VORACIOUS
Aussie musical instrument a holiday reminder
DIDJERIDU
Catchphrase of the Teenage Mutant Ninja Turtles
COWABUNGA
Gives evidence in court
TESTIFIES
Meat-eating animal
CARNIVORE
Navigators' altitude-measuring device
ASTROLABE
Outer layer of the skin
EPIDERMIS
Queen of the Amazons
HIPPOLYTA
Sunken lower than its surrounds
DEPRESSED
Third Brontë sister alongside Anne and Emily
CHARLOTTE
Tom might have had a shot at Jerry with this
MOUSE TRAP
More levels of CodyCross Australia
Playing Codycross is super fun and also helps you practice vocabulary.
We keep the answers of the new levels updated to help you.
Playing is fun for both children and adults. Word games like Codycross are a great option because besides having fun, they improve some of your mental abilities such as memory.
We look forward to hearing from you whenever you need help with solutions to any level. We are happy to help you.
Enjoy and be sure to share it with all your friends and family!