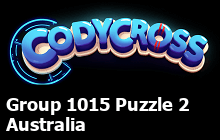 Are you trapped in Group 1015 Puzzle 2 of Australia? Here you have the answers:
A large fish-eating hawk
OSPREY
Adolphe first president of Third French Republic
THIERS
Amadeus was the movie of this composer's life
MOZART
Australian swamp creature with tusks and flippers
BUNYIP
Chinese philosopher and founder of Taoism
LAO TZU
Dana who partnered with Fox Mulder
SCULLY
Famous inventor whose middle name was Alva
EDISON
Feisty girl who drank her tea in The Plaza hotel
ELOISE
Horizontal structures that support beams
JOISTS
Mexican scarf worn as accessory or baby carrier
REBOZO
Singer Jason who had a hit with Take You Dancing
DERULO
The beginning; the source of something
ORIGIN
More levels of CodyCross Australia
Playing Codycross is super fun and also helps you practice vocabulary.
We keep the answers of the new levels updated to help you.
Playing is fun for both children and adults. Word games like Codycross are a great option because besides having fun, they improve some of your mental abilities such as memory.
We look forward to hearing from you whenever you need help with solutions to any level. We are happy to help you.
Enjoy and be sure to share it with all your friends and family!