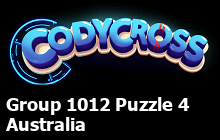 Are you trapped in Group 1012 Puzzle 4 of Australia? Here you have the answers:
A type of sausage named after an Italian city
BOLOGNA
American comedian Amy in the film Trainwreck
SCHUMER
At the start of a flight you prepare for
TAKEOFF
Cable that restores power to a portable battery
CHARGER
Elizabeth or Miller for example
SHANNON
First US city to host the Olympic Games
ST LOUIS
Frozen floating sheet
ICE FLOE
Mixture of a liquid and tiny particles
COLLOID
Mother of Persephone in Greek mythology
DEMETER
Ocean in which the Battle of Midway took place
PACIFIC
Southern Portuguese coast popular with tourists
ALGARVE
TV show about the Devil as an LAPD consultant
LUCIFER
The ilium ischium and pubis combined
HIPBONE
This domestic companion was mineral not animal
PET ROCK
Tropical trees with aerial roots
BANYANS
Working out selling costs for goods
PRICING
Will Give Health to the Sick Kahlo artwork
MARXISM
More levels of CodyCross Australia
Playing Codycross is super fun and also helps you practice vocabulary.
We keep the answers of the new levels updated to help you.
Playing is fun for both children and adults. Word games like Codycross are a great option because besides having fun, they improve some of your mental abilities such as memory.
We look forward to hearing from you whenever you need help with solutions to any level. We are happy to help you.
Enjoy and be sure to share it with all your friends and family!