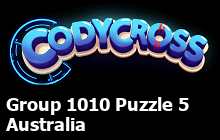 Are you trapped in Group 1010 Puzzle 5 of Australia? Here you have the answers:
A painful bump on the joint of one's big toe
BUNION
Astronomer known for his laws of planetary motion
KEPLER
Beethoven's dramatic middle musical period
HEROIC
Danny star of Matilda Twins and Batman Returns
DE VITO
Daughter of the Rose family in Schitt's Creek
ALEXIS
Hand-held spade for digging holes
TROWEL
Herbivorous marine mammal akin to a sea cow
DUGONG
Napoleon represents this Russian in Orwell's tale
STALIN
Scandinavian home of the H&M fashion store
SWEDEN
Social classes in Hindu cultures
CASTES
Weight used by a fisher to go deeper
SINKER
__ to handle difficult to deal with
TOO HOT
More levels of CodyCross Australia
Playing Codycross is super fun and also helps you practice vocabulary.
We keep the answers of the new levels updated to help you.
Playing is fun for both children and adults. Word games like Codycross are a great option because besides having fun, they improve some of your mental abilities such as memory.
We look forward to hearing from you whenever you need help with solutions to any level. We are happy to help you.
Enjoy and be sure to share it with all your friends and family!