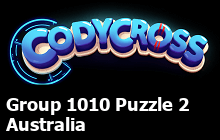 Are you trapped in Group 1010 Puzzle 2 of Australia? Here you have the answers:
Bob Marley song of 1977
JAMMING
Country of Celtic origin with the language Gaelic
IRELAND
Drawings found in prehistoric dwellings
CAVE ART
Eldest son of Gomez and Morticia Addams
PUGSLEY
Energy drink said to give you wings
RED BULL
Foreshadowing signs omens
OSTENTS
Game involving wickets mallets and heavy balls
CROQUET
Hostess frosting-filled cake said to last forever
TWINKIE
How a cheese-filled pizza crust might be described
STUFFED
In the space separating two objects
BETWIXT
Monet famously painted his own garden here
GIVERNY
Popular style of wire-framed sunglasses
AVIATOR
Protection __ extort money out of business owners
RACKETS
Religious Society of Friends members
QUAKERS
Sally __ blue car in Cars movie
CARRERA
Set of jokes or gags told by a stand-up comedian
ROUTINE
Stheno Euryale and Medusa in Greek mythology
GORGONS
More levels of CodyCross Australia
Playing Codycross is super fun and also helps you practice vocabulary.
We keep the answers of the new levels updated to help you.
Playing is fun for both children and adults. Word games like Codycross are a great option because besides having fun, they improve some of your mental abilities such as memory.
We look forward to hearing from you whenever you need help with solutions to any level. We are happy to help you.
Enjoy and be sure to share it with all your friends and family!