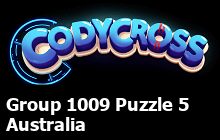 Are you trapped in Group 1009 Puzzle 5 of Australia? Here you have the answers:
Another word for the inbound leg of a trip
RETURN
Brackish carnivorous eels
MORAYS
Hawthorne's Scarlet __
LETTER
Largest indie record shop located in California
AMOEBA
Nikita Khrushchev led this country 1953-64
RUSSIA
One who analyzes and rates a movie
CRITIC
Red salad vegetable used to make a pomodoro sauce
TOMATO
Sheet-like layers of overflow ice
AUFEIS
Sign with memorial inscription
PLAQUE
Stick used to load muskets
RAMROD
Street where traffic drives in a sole direction
ONE WAY
TV football expert
PUNDIT
Thrash metal band of Kerry King and Jeff Hanneman
SLAYER
Trainee employee who works often without pay
INTERN
Tubes inserted to keep blood flowing
STENTS
More levels of CodyCross Australia
Playing Codycross is super fun and also helps you practice vocabulary.
We keep the answers of the new levels updated to help you.
Playing is fun for both children and adults. Word games like Codycross are a great option because besides having fun, they improve some of your mental abilities such as memory.
We look forward to hearing from you whenever you need help with solutions to any level. We are happy to help you.
Enjoy and be sure to share it with all your friends and family!