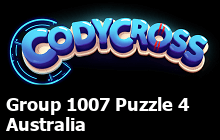 Are you trapped in Group 1007 Puzzle 4 of Australia? Here you have the answers:
2014 movie starring Miles Teller as a drummer
WHIPLASH
American psychologist TED talker on power posing
AMY CUDDY
Comfortable upholstered seat for one person
ARMCHAIR
Ham and pineapple pizza
HAWAIIAN
His Canterbury Tale was about a black crow
MANCIPLE
Hurdle or encumbrance in the way of a sportsperson
OBSTACLE
Large tropical island off the south coast of India
SRI LANKA
Photo taken quickly and casually
SNAPSHOT
Pressures aggressively
HARASSES
Relating to the heart arteries
CORONARY
South American rodent like a chinchilla
VISCACHA
Square root of 361
NINETEEN
Stage musical based on a Monty Python story
SPAMALOT
More levels of CodyCross Australia
Playing Codycross is super fun and also helps you practice vocabulary.
We keep the answers of the new levels updated to help you.
Playing is fun for both children and adults. Word games like Codycross are a great option because besides having fun, they improve some of your mental abilities such as memory.
We look forward to hearing from you whenever you need help with solutions to any level. We are happy to help you.
Enjoy and be sure to share it with all your friends and family!