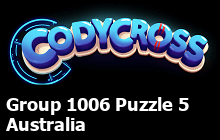 Are you trapped in Group 1006 Puzzle 5 of Australia? Here you have the answers:
Campervan with mobile living accommodation
MOTORHOME
Country in which mogul Rupert Murdoch was born
AUSTRALIA
Element with the atomic symbol K
POTASSIUM
Fixing broken computer code
DEBUGGING
Jamaica and Barbados are in this sea
CARIBBEAN
Lonely card game for a single player
SOLITAIRE
Moscow art gallery
TRETJAKOV
Pink Floyd's unintelligible album title of 1969
UMMAGUMMA
Posh word for drinks
BEVERAGES
Romance novelist who wrote The Duchess Deal
TESSA DARE
Sara popstar who wrote the musical Waitress
BAREILLES
Whetstone to knives
SHARPENER
More levels of CodyCross Australia
Playing Codycross is super fun and also helps you practice vocabulary.
We keep the answers of the new levels updated to help you.
Playing is fun for both children and adults. Word games like Codycross are a great option because besides having fun, they improve some of your mental abilities such as memory.
We look forward to hearing from you whenever you need help with solutions to any level. We are happy to help you.
Enjoy and be sure to share it with all your friends and family!