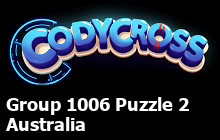 Are you trapped in Group 1006 Puzzle 2 of Australia? Here you have the answers:
1950s US police TV show later known as Badge 714
DRAGNET
87 in Roman numerals
LXXXVII
A faceless skinny supernatural character __ Man
SLENDER
Began again after a pause
RESUMED
Blood Bowl is a __ football game released in 1986
FANTASY
CDs are this kind of disc
COMPACT
Eastern European country capital city is Minsk
BELARUS
Hector legendary French composer and conductor
BERLIOZ
John author of Tinker Tailor Soldier Spy
LE CARRE
Layer of fat that insulates polar mammals
BLUBBER
Play that starts a football game
KICKOFF
Squarish diamond cut
RADIANT
The Ace detective played by Jim Carrey
VENTURA
__ of hand card tricks with quick fingers
SLEIGHT
More levels of CodyCross Australia
Playing Codycross is super fun and also helps you practice vocabulary.
We keep the answers of the new levels updated to help you.
Playing is fun for both children and adults. Word games like Codycross are a great option because besides having fun, they improve some of your mental abilities such as memory.
We look forward to hearing from you whenever you need help with solutions to any level. We are happy to help you.
Enjoy and be sure to share it with all your friends and family!