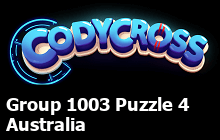 Are you trapped in Group 1003 Puzzle 4 of Australia? Here you have the answers:
2019 duet with Cardi B and Bruno Mars
PLEASE ME
Actor Pike who plays the Gone Girl
ROSAMUND
Catherine's surname in Wuthering Heights
EARNSHAW
Country with Bratislava as its capital
SLOVAKIA
Hugged; included took on board
EMBRACED
Leaves on which silkworms feed
MULBERRY
Nickname for a left-handed boxer
SOUTHPAW
Raw vegetables served with a dip
CRUDITÉS
Winston's cat on the TV show New Girl
FERGUSON
__ rock-hewn churches of Ethiopia
LALIBELA
More levels of CodyCross Australia
Playing Codycross is super fun and also helps you practice vocabulary.
We keep the answers of the new levels updated to help you.
Playing is fun for both children and adults. Word games like Codycross are a great option because besides having fun, they improve some of your mental abilities such as memory.
We look forward to hearing from you whenever you need help with solutions to any level. We are happy to help you.
Enjoy and be sure to share it with all your friends and family!