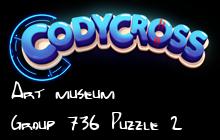 Are you trapped in Group 736 Puzzle 2 of Art museum? Here you have the answers:
A house falls on the __ Witch of Oz
WICKED
Accessory chain worn above the foot
ANKLET
Arrogantly, conceitedly
SMUGLY
Author of The Joy Luck Club
AMY TAN
Bejeweled accessory worn above the foot
ANKLET
Chilean island known for moai statues: __ Island
EASTER
French meat cut also known as a hanger steak
ONGLET
Gertrude __, Arts & Crafts garden designer
JEKYLL
Ground-in dirt marks that are hard to remove
STAINS
John __, had No 1 hit with Annie's Song
DENVER
Knitted or netted device to confine long hair
SNOODS
Liar, teller of tales
FIBBER
Loosen up, release the day's events from the mind
UNWIND
Made in __, 1990s Queen song about up above
HEAVEN
Male parents of cousins
UNCLES
Muggy, stale, fetid
STUFFY
Napoleon represents this Russian in Orwell's tale
STALIN
Pen-shaped device for "writing" on touchscreens
STYLUS
Sacred objects belonging to saints or martyrs
RELICS
Small garden ornaments with beards
GNOMES
Tall building site machinery used for heavy loads
CRANES
Tall building site machinery used for winching
CRANES
Type of job where the person works from home
REMOTE
More levels of CodyCross Art museum
Remember to add this site to your bookmarks 🌟 so you can come back when you need help with a level!
Codycross is one of the most played word games in history, enjoy the new levels that the awesome developer team is constantly making for you to have fun, and come back here if you need a little bit of help with one of them.
Please feel free to contact us for suggestions and comments.