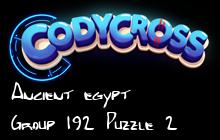 Are you trapped in Group 192 Puzzle 2 of Ancient egypt? Here you have the answers:
Agga Maha __, honorific title in Theravada Buddhism
PANDITA
Another name for Thomas the apostle
DIDYMUS
Back of the stage, away from the audience
UPSTAGE
Bartender or mixologist's wooden pestle
MUDDLER
Bram Stoker's famous vampire
DRACULA
Capital of Indonesia
JAKARTA
Device used for credit card fraud
SKIMMER
Donatella __, Italian fashion designer
VERSACE
Dull and overcast with no solar warmth
SUNLESS
English poet of the modernist movement
TS ELIOT
First comes lightning, then comes __
THUNDER
Knowledge of past events
HISTORY
Korean company, Apple's smartphone rival
SAMSUNG
Monte __, prolonged WWII battle at Italian abbey
CASSINO
Most portrayed horror blood-sucking movie villain
DRACULA
Official headquarters for an ambassador
EMBASSY
One __ and One Dalmatians was released in 1961
HUNDRED
Philip __ Hoffman, American actor
SEYMOUR
Picture cut or scratched into a metal surface
ETCHING
The beautiful rock__ jumps over rocks
SKIPPER
Traveling on surfaces by dancing or racing
SKATING
Tree nymphs protect __ and trees
FORESTS
Type of obsidian, cracking volcanic glass
PERLITE
__ swimming crab feeds on trash
HARBOUR
More levels of CodyCross Ancient egypt
Remember to add this site to your bookmarks 🌟 so you can come back when you need help with a level!
Codycross is one of the most played word games in history, enjoy the new levels that the awesome developer team is constantly making for you to have fun, and come back here if you need a little bit of help with one of them.
Please feel free to contact us for suggestions and comments.