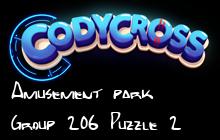 Are you trapped in Group 206 Puzzle 2 of Amusement park? Here you have the answers:
Afraid of hard labor
WORKSHY
Anything thrown as a missile
DINGBAT
Body of a lion, wings of an eagle
GRYPHON
British rock and blues artist who sang for Layla
CLAPTON
Capital of Guinea
CONAKRY
Carbon __; greenhouse gas in the atmosphere
DIOXIDE
Clock that shows the numbers, not analog
DIGITAL
Distention is being __ from internal pressure
SWOLLEN
Event during which people discuss business
MEETING
Filo-made pastry from the Ottoman Empire
BAKLAVA
French term for stewed or preserved fruit
COMPOTE
La Santa Maria, la Pinta and la Niña
CARAVEL
Loud-sounding natural phenomenon
THUNDER
Louis __, French fashion house with monogram
VUITTON
Marine fish belonging to the Carangidae family
POMPANO
Mystic or prophetic trance
ECSTASY
New wine shouldn't be put into old ones
BOTTLES
One of the 13 words impossible to play in Scrabble
PIZZAZZ
Paint through the holes of this cut-out card
STENCIL
Placing possessions to move to another location
PACKING
Rifle invented by German Hugo Schmeisser
ASSAULT
They like inflicting pain
SADISTS
To make or create a fabric with a hooked needle
CROCHET
What infants drink instead of milk
FORMULA
You must control this to not gain weight
PORTION
__ Hook, Peter Pan's archenemy
CAPTAIN
__ New Year, Spring or Lantern Festival
CHINESE
__ Stadium 2002, Japanese soccer field
SAITAMA
__ quo, you scratch my back, I'll scratch yours
QUID PRO
More levels of CodyCross Amusement park
Remember to add this site to your bookmarks 🌟 so you can come back when you need help with a level!
Codycross is one of the most played word games in history, enjoy the new levels that the awesome developer team is constantly making for you to have fun, and come back here if you need a little bit of help with one of them.
Please feel free to contact us for suggestions and comments.