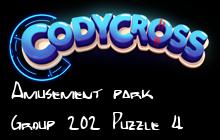 Are you trapped in Group 202 Puzzle 4 of Amusement park? Here you have the answers:
"Socializing" of computer hardware and software
INTERFACE
Ammonium __, salt, unstable compound
PHOSPHATE
Becoming less tight
LOOSENING
Bette Davis cripples husband, wins Oscar
DANGEROUS
Care and treatment of women during pregnancy
OBSTETRIC
Children's game in which you play doctor
OPERATION
Chore done in a residence
HOUSEWORK
Circus performer turned actor Burt __
LANCASTER
Cooked bread and warm dairy liquid
MILK TOAST
Discharges; expulsions
EJECTIONS
French general of the US Revolutionary war
LAFAYETTE
Having several possible meanings
AMBIGUOUS
Hollow tube with beans, pins inside to make rain
RAINSTICK
Irrelevant, worthless, futile
POINTLESS
Kinds of animals found in Jurassic Park
DINOSAURS
Mythical Tibetan Buddhist kingdom
SHAMBHALA
Newborn baby bird
HATCHLING
Novel by Anne Bronte about a governess
AGNES GREY
Physicist shared 1933 prize with Erwin Schrödinger
PAUL DIRAC
Swedish tennis player won five Wimbledon titles
BJORN BORG
The opposite of knowledge
IGNORANCE
Where computer hardware and software meet
INTERFACE
__ Land, royal Norwegian Antarctic possession
QUEEN MAUD
More levels of CodyCross Amusement park
Remember to add this site to your bookmarks 🌟 so you can come back when you need help with a level!
Codycross is one of the most played word games in history, enjoy the new levels that the awesome developer team is constantly making for you to have fun, and come back here if you need a little bit of help with one of them.
Please feel free to contact us for suggestions and comments.